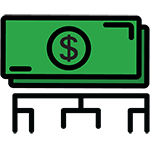 Managing your business and preparing regular financial statements can be a daunting endeavor for small businesses. That is where we step in to help through our efficient Financial Statements preparation.
Financial Statements preparation for small business clients is a long-standing service of our firm. We can customize our services based on the needs of the client and are fully equipped to timely prepare monthly, quarterly and year-end balance sheet and detailed operating statements.
And we do not just stop there as we also provide analysis of the statements. The state-of-the-art accounting software used in our office can provide helpful comparisons and calculations for effective, practical business analysis and decision making.